Caitlin Donnelly Klepper
---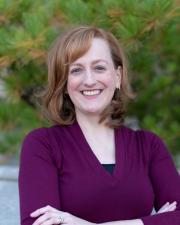 Biography
—
Caitlin Donnelly Klepper has been the Head of Public Services at Spencer Research Library since December 2012. Between 2008 and 2012 she was the Archivist at the Daughters of the Republic of Texas Library at the Alamo­ in San Antonio, Texas (now part of Archives and Special Collections at Texas A&M University-San Antonio). Caitlin has additional professional experience with Documenting the American South at the University of North Carolina-Chapel Hill, the Special Collections Research Center at North Carolina State University, the Government Documents Library and the Preservation Services Unit at the University of Illinois at Urbana-Champaign, and the National Park Service.       
Education
—
Certified Archivist, Academy of Certified Archivists, 2009
M.S. in Library Science (concentration in archival studies), University of North Carolina at Chapel Hill, 2008
M.A. in Public History, North Carolina State University, 2006
B.A. in Liberal Arts and Sciences – Humanities – American Civilization, University of Illinois at Urbana-Champaign, 2004
Selected Publications
—
Klepper, Caitlin Donnelly. 2018. "Archives." Book chapter. Be Credible: Information Literacy for Journalism, Public Relations, Advertising and Marketing Students. Peter Bobkowski and Karna Younger, University of Kansas. https://oen.pressbooks.pub/becredible.
Selected Presentations
—
Klepper, C. D. (11/21/2019). Studying Slavery through Primary Sources and Personal Stories. Kansas City Area Archivists Fall Symposium. Miller Nichols Library, University of Missouri-Kansas City, Kansas City, MO
Donnelly, C., & Kottman, M. (8/8/2017). Mapping Aeon Activity Data for Use in Annual Statistics. Intersections: Technology and Public Services in Special Collections. Penn State University, State College, PA
Donnelly, C. (5/27/2017). Genealogy Resources at Kenneth Spencer Research Library. Johnson County Genealogical Society General Monthly Meeting. Johnson County Central Resource Library, Overland Park, KS
Whittaker, B., Donnelly, C., & D'Antonio, S. (10/23/2015). Exhibit Design to Engage Students in Recovering History. Missouri Association for Museums and Archives Annual Meeting. Columbia, MO
Donnelly, C. (10/14/2011). We Are Besieged by a Thousand or More Visitors: The DRT Library and the 175th Anniversary of the Battle of the Alamo. Sixth Annual Archives Day Celebration: Archives and Anniversaries. The Wittliff Collections, Texas State University-San Marcos, San Marcos, TX