Marcella Huggard
---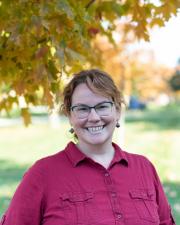 Archives and Manuscripts Coordinator
She/her/hers
Selected Publications
—
Huggard, Marcella. "Preserving Psychiatry on the Plains:  The Complicated Case of the Menninger Foundation Archives." Kansas History: A Journal of the Central Plains. In press, expected publication fall 2021.
Huggard, Marcella and Laura Uglean Jackson. "A Practice in Progress: The State of Reappraisal and Deaccessioning in Archives." American Archivist 82(2): 1-40. https://doi.org/10.17723/aarc-82-02-04
Huggard, Marcella. "Good Intentions: Distinguishing Deaccessioning from Weeding." In Reappraisal and Deaccessioning in Archives and Special Collections, edited by Laura Uglean Jackson. Lanham, MD: Rowman & Littlefield, 2019: 1-11.
Huggard, Marcella (Wiget). "Macro (Re)Appraisal: Does This Really Need to Come to the State Archives?" Government Records Case Studies. Society of American Archivists - Government Records Section, March 2016. http://files.archivists.org/pubs/GovtRecordsCaseStudies/CASE-1-MacroReappraisal.pdf
Gorzalski, Matt, and Marcella Wiget. 2011. "More Access, Less Backlog: How the Kansas Historical Society Got Its Groove Back." Journal Articles.
Archival Issues
33 (1): 7–24.
http://digital.library.wisc.edu/1793/72351
.
Exhibitions
—
Klepper, Caitlin and Marcella Huggard. "Meet the Spencers: A Marriage of Arts and Sciences." Exhibit Space at the Kenneth Spencer Research Library, Lawrence, KS. January – June 2019. Available online at https://exhibits.lib.ku.edu/exhibits/show/spencers.